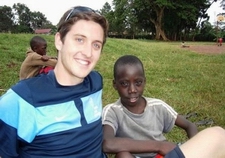 Iaeun Wyn Kelly (Games and sports trainer 2011)
By May 2011, our plane tickets to Entebbe had been booked. Our reasoning for Uganda being my pre-existing confidence about the country, (as this would be our first trip organized without outside input) as well as my belief that a country that had brought me so much joy three years ago could have the same positive effect on Catrin. Location sorted, now for the charity.
The criterion was simple: to work with needy children in a sporting context. Initially, our searches mainly revolved around orphanages often with a heavy Christian focus, an Elitist approach or a fee being demanded. When we stumbled upon Clemency Uganda, the website was basic; however, their vision, approach and values fell in line with ours. We had found our focus. The reply was swift and professional, and within days a relationship had been established.
The coming weeks saw official documents being completed and conversations taking place about a sports coaching program, focusing on Netball, Volleyball and Basketball. With this information we withdrew our savings and equipped ourselves with the necessary equipment: 50 cones, 11 balls, 10 bibs, 2 whistles and volleyball net. From its location, the team of designated staff and the past-project photos on the wall of the office, it appeared that Clemency Uganda was a small but effective organization that successfully addressed local issues. On arrival, we were welcomed by songs from the diverse range of children that belonged to the charity, provoking positive emotions and reinforcing our decision to come and work with this team of people.
In relation to the Clemency Uganda children, in my opinion the coaching sessions were a great success. Although there was the odd disruptive pupil, the behavior was of an acceptable standard. I believe the children dealt with the language barrier well with some of the more fluent English speakers helping to translate for the less-fluent. The level of sporting ability was of a high standard considering the majority of these children had never played these sports before, and their willingness to learn was even higher. This was clearly demonstrated on a daily basis by those children whom continued to practice even during the water breaks on burning hot days. As a coach and as a lover of sport this reminds me of my own childhood rugby sessions, taking every opportunity to practice and play. To me sport has always been a means of enjoyment. I have played many sports in my life, and have been fortunate and skilled enough to represent my country in some of them. From these experiences I realize the importance of elite sport: being able to showcasing your talent on an international stage, representing your country and knowing that you are one of the best. But I also, and more importantly in my opinion, understand the importance of sport for what is it.
Sport is special because anyone can participate in it and enjoy the benefits of it. There is a plethora of contemporary research that focuses on the physical, social and psychological benefits of sport, physical activity and play.
In a country such as Uganda where there are so many factors holding one back from reaching their potential, it is easy to see why people turn to sport in order to try to escape poverty traps, however, the harsh reality is that there is a lack of structure within the country that allows talent to be identified at a grass roots level. Equally as sad is the fact that if you were fortunate enough to get a break and represent your country, even in the most established sport that is football; the wages are not even close to that of a western sportsman. I am not trying to discourage dreams; however, I am trying to emphasize and justify our inclusive and adapted approach to sport. Throughout our stay, despite continuously being asked to identify talent, we continued with our inclusive approach, providing everyone with an equal opportunity to participate. This allowed all ages and abilities to be able to play together, forcing cooperation and team work between children that would not necessarily choose to work together: an essential skill for later life.
For me the Kids sports Gala day was an opportunity to showcase every child's hard work that has led to significant improvements in their ability over the past month. The day ran smoothly and it appeared that the children and staff all enjoyed themselves. The idea to allocate a team to each member of staff had the desired effect as all of leaders (Neto, Zainah, Victor & Rose) organized, encouraged and enthused their team members. At times, it was obvious that the older children were physically dominating the games: something that we'd tried to minimize through the use of adapted games. Despite this, some of the rules enabled the younger ones to showcase their talent and at times obviously shocked some of the spectators and other players with their skilled ability.
The time spent in Uganda in 2011 mirrored the positive experience of my first trip. The country is just as beautiful; the people just as affable and the climate just as hot. In honesty though, the trip was not how I had imagined. Although I thoroughly enjoyed my time with Clemency Uganda, I found the month in country very rewarding yet very hard. This was due to factors such as working for hours at a time in the extreme heat: not an issue I am obviously just not used to this so therefore required more rest and more fluids than usual. As well as this, I found it hard to adapt to the Ugandan culture. I have to emphasize that I thoroughly enjoyed living with Neto and Zainah and appreciate everything that they did for us as we could not have felt more welcome, however, I struggled to adapt to the Ugandan way of life.
The friends that I have made during this trip have been truly hospitable. Rose, for letting us into your family and assisting us with the coaching I thank you; Victor for taking the time to show us your village and gardens, as well as helping us communicate with and organize the children on a daily basis, I thank you. Zainah for welcoming us into your home and taking time away from your studies to look after us, I thank you. And Neto for all of the preparation and dedication that you put into the charity to make our trip possible, I thank you. There are of course others who have made our trip so memorable all of whom I would like to thank, not least the children. The perseverance of some of these children, some of whom are so desperately in need yet continue to try so hard and even smile, is enviable. I feel that we have so much in our western society and you are always looking to learn from us, however, we need to realize that we can also learn so much from you. During our short time with you I feel that we have planted a seed within each of the children, however, feel ashamed that we could not stay to tend to our crops. I hope that we leave that in the capable hands of the Clemency Uganda as you have assured us that with the money we have provided you will be able to employ an adequate 'gardener' in order to shape the growth of these amazing young people. Please pass on my thanks and appreciation to them.
Clemency Uganda: Your concept as an organization is hard to fault. Please keep recruiting enthusiastic volunteers, both local and from further a-field, to help target the hardships of village life in Uganda. I wish you all the best in the future and hope to visit my Ugandan friend and family in the near future.
Thank you for the incredible opportunity and your kindness.
Much love, Ieuan Kelly.