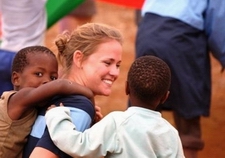 Catrin Thomas (Games and sports trainer 2011)
When looking to come to Uganda I was looking for a small scale, local charity so that my work could have a meaningful impact and my skills would be utilized in the best way. I chose the charity Clemency Uganda to work with because the visions and goals on the website matched with my own views and I saw it was a small scale local charity. All the information communicated about the project was detailed and I was very pleased and excited to work alongside people who had the same attitude as me to help children.
Once in Uganda at first I found it hard to adjust to the change in culture and without my bag. However the welcome from Neto and Zainah could not have been better. The open, kind and warm nature they demonstrated while we stayed with them allowed me to slowly become more comfortable in my new environment. Being fully absorbed in Ugandan culture was great experience sometimes it was difficult as it was a constant exposure and it was not what I was used to but it meant I gained a new perspective. The warm, welcoming nature continued when working with the charity. The staff and children were eager to learn from us and everyone we met displayed the friendly personality that Uganda is known for. I found the coaching really rewarding. Being able to work with the same children over the weeks was great. I loved seeing them improve and getting to know them as individuals. The coaching was challenging with the language barrier being the main challenge. However I don't believe this was a negative challenge as it meant that I had to improve my coaching ability and the children were exposed to more English. Rose and Victor were a great asset when it came to translating. The only thing that hindered the progress of the Clemency children was the constant flow of 'new' children coming to the sessions. Towards the end of the project this was highlighted and a better understanding and communication of the projects aims to Rose and Victor may have helped reduce this hindrance.
It was great to experience the tourist sites and local spots during my visit and I gained a true sense of what life in Jinja is really like which I don't think many' muzungus' do. I hope I helped to expose the people I met and worked with to my own culture a little bit and help them understand my way of life in Wales and the traditions I follow.
I do think it is important that when the next volunteer comes that all staff have a good understanding of certain aspects of their culture; the temperature in Uganda is very hot for Europeans so activities such as walks should be planned for early morning or later afternoon. The sun is very strong and has a great impact on our skin, hydration level and general energy levels. To make sure you have healthy happy effective volunteers the temperature and sun exposure should be underestimated.
Also when discussing accommodation before the trip as much information about the volunteers options should be communicated as possible so they have a choice to pick the most suitable one for them.
I was lucky that the right option was chosen for me. My experience in Uganda was amazing; I made lovely friends and fantastic memories. The work Clemency Uganda does is good and I am sure the money donated will be put to good use.